Article first published as Five Business Tips From The Beatles on Technorati.
This part one of a two part series; you can access part two HERE.
Note: This is an installment in the Iconic Advice series. Other installments include: Jeff Bezos, Steve Jobs, Mark Cuban, Richard Branson, Walt Disney, Mark Zuckerberg, Michael Dell and Larry Ellison.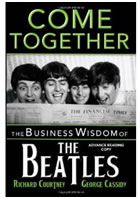 As any long-time reader of this humble blog knows, I am an ardent Beatles fan. Thus, when Come Together – The Business Wisdom of The Beatles was released, my hopes were high for a great read. Unfortunately, I was a bit disappointed.
Despite the book's shortcomings, it contains a number of insightful lessons for budding entrepreneurs. Of the 100 business "lessons" articulated in the book, I highlight a few below that I feel are the most relevant and impactful for entrepreneurs.
If you haven't already subscribed yet, subscribe now for
free weekly Infochachkie articles!
Beatles Business Lessons
My primary complaint with Come Together is the authors' attempt to divine 100 meaningful business insights from the Beatles' career. Although successful entities, including the Beatles, have much to teach entrepreneurs, 100 lessons is about 80 too many. Some of the examples are patently obvious (e.g., (i) drugs are bad, (ii) no matter how much success you have, you are not invincible, (iii) have fun, and (iv) negativity is a weakness), and others only relate to the Beatles in a tangential fashion.
In the list below, I have compiled some of my favorite lessons from Come Together, combined them with a few of my own Beatles inspired startup tips.
 What's Your B7?
The Beatles consistently walked a challenging line between creating innovative art and remaining imminently accessible. They differentiated their product with subtle, unconventional techniques, such as the use of the B7 chord in I Want To Hold Your Hand.
After alternating very conventional C and D chords, John plays a B7 chord at the end of the line "I think you'll understand." For years the note was improperly scored as a B-minor chord because that was the conventional note one would expect following a C and D chord progression.
As the Come Together authors note, the instability caused by the unexpected and unorthodox use of the B7 chord is, "interesting and pleasing to the listener." One strange chord is immaterial in isolation. However, the Beatles consistently differentiated their products by deploying surprising, adventuresome chord progressions throughout their career. At the end of this section, the authors challenge the reader by asking, "What is your B7? You and your competitors are probably using the B7 in all the conventional ways. Don't be afraid to add a little instability, a little mystery…" to your company's products and their underlying value propositions.
Create A Culture In Which Junior Teammates Can Grow And Prosper
The Beatles were far from flawless. Entrepreneurs can learn from their achievements as well as their failures. One clear mistake was their underutilization of George Harrison's talents. When the group was formed, George's role was supportive with John and Paul writing and singing most of the group's hits. However, as his talents and confidence matured, George's songs eventually rivaled those of his band mates. Despite this reality, his legacy as a junior member of the team relegated him to a couple songs per album.
Once the group broke up, George released a three album set comprised of 23-songs. Appropriately entitled All Things Must Pass, the album spawned two top-ten hits and sold over 6-million copies making it the best selling Beatles' solo release.
It can be difficult for junior members of a team to grow into positions of greater authority. This is especially true if they are part of a Serial Team and they held a junior role at the prior company. This phenomenon is partially due to the fact that the senior members of a Serial Team, much like a parent, fail to realize that younger team members have matured and are no longer as inexperienced as they were when they first joined the team. Like the Beatles, you may be underutilizing the overall talent at your venture if you are not allowing young people to grow into more impactful roles.
Over Deliver
With a few exceptions at the end of their career, the Beatles never included previously released singles on their UK albums. This tactic provided the Beatles with a strategic advantage over other musicians because fans knew that if they purchased a particular single, it would not appear again on a subsequent album. In essence, the Beatles offered a product with a higher value proposition as compared to many of their counterparts.
In addition to omitting previously released singles from their albums, the Beatles further enhanced their products' value by creating double A-side singles, in which both songs were hits in their own right. The typical approach during the 1960's was to put a "throwaway" song on a single's B-side. Ignoring this music-industry convention, the Beatles released an unprecedented twenty-seven double A-side singles during their careers.
Your startup should strive to offer as much value to its customers as possible. It is seldom prudent to denude your value prop in the hopes of later generating incremental revenue through subsequent sales. Consumers will reward you over the long term if you over deliver on your value proposition. I discuss value prop maximization in more depth in MVP².
Innovator's Solution
Clay Christensen's follow up book to his classic Innovator's Dilemma is titled The Innovator's Solution. I can sum it up in a two words, "keep innovating." One of the reasons the Beatles remain immensely popular over fifty years after their formation is that innovation was at the core of their organizational culture.
The innovations the Beatles pioneered are too numerous to list here. However, one discussed in Come Together is of particular note. At the apex of the Beatles' fame, they stopped touring. They were willing to forego the Quick Buck in order to focus on honing their talents in the studio. In retrospect, the decision may not seem significant. However, at the time, most journalists were convinced that the Beatles career was effectively over. Their view was understandable, as no prior musical act had maintained its popularity without a heavy touring schedule.
After an unprecedented 10-month break from the public eye, the Beatles released Sgt. Pepper's Lonely Hearts Club Band. Despite the fact that they created their first album in a single day, Sgt. Pepper was recorded over 129 days. It eventually sold over 32 million copies, making it the 8th best-selling album of all time (excluding soundtracks).
The Beatles partially satiated the void created by their lack of touring by creating a new genre, the music video. During their 10-month hiatus, two videos were shown on various television shows worldwide, thereby exposing millions of fans to the group's latest music (Penny Lane and Strawberry Fields Forever), without requiring the band to take time away from their studio efforts. Brilliant.
Much like the Beatles, startups that constantly morph and evolve their strategic approach will keep their competitors off-balance while avoiding the Innovator's Dilemma.
Innovator's Solution
Most sophisticated investors agree that the startup team is the single most important variable when evaluating a potential investment opportunity. As I note in Your Startup Should Emulate The Beatles, Not A Flock Of Seagulls, one of the Beatles' most powerful assets was the cohesiveness and balance of their core team. In addition, they were fortunate to be supported by a squad of managers, producers and publicists, each of whom helped to propel the group from obscurity to international fame.
Startups, especially in their early days, must be uncompromising in their pursuit of talent. If a recruit is not the best candidate you can reasonably find for a particular position, do not hire them. If you make one hiring compromise you can be sure more will follow. Speed is vital at a startup. However, hiring is one aspect of the venture creation process in which velocity should take a backseat to judicious patience.
Case in point: On the cusp of their fame, the Beatles fired their long-time drummer Pete Best and hired Ringo Starr. Loyalty matters and entrepreneurs should never fire people lightly. However, the Beatles would not have done Pete any favors if they had kept him in the group and then failed to succeed.
Book Verdict
If you are a Beatles' fan and an SOB (Student of Business), you might enjoy Come Together. If you purchase the book assuming you will uncover a couple dozen entertaining and enlightening Beatle stories that you can apply to your startup, you will not be disappointed.
This part one of a two part series; you can access part two HERE.
Note: This is an installment in the Iconic Advice series. Other installments include: Jeff Bezos, Steve Jobs, Mark Cuban, Richard Branson, Walt Disney, Mark Zuckerberg, Michael Dell and Larry Ellison.
Share and Enjoy