The following guest post is from Eric Gaydos, Buzz Marketing Manager at The Resumator, a SaaS applicant tracking system and hiring platform trusted by many of the fastest-growing companies in the world, including: Pinterest, Tumblr, Hootsuite, Klout, Posterous, Bitly, Atari and Mashable. I am a Board Member and an investor in The Resumator via Rincon Venture Partners.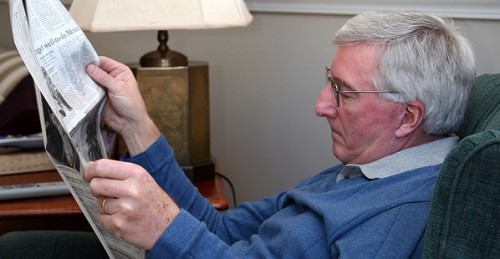 Much has changed in just the last 10 years of recruiting. Social recruiting tools are here, and your next resume will probably never actually be on a sheet of paper. You might have even found your current job on social media.
Some things about recruiting and hiring are timeless; things us whippersnappers would do well to consider during our next round of hiring. Who better to turn to than someone who's been in business for six decades? Here are some fantastic recruiting tips from Grandpa:
"A handshake is a contract."
When you extend an offer and shake a hand, you're creating a commitment to their success. Their wellbeing is now tied to yours, and visa versa. It's up to you to set them up for success, and it's up to them to achieve it. Be sure you're willing to commit — and that you'll be able to hold up your end of the bargain — before you ever consider bringing someone on board.
"Answer the question you're asked…and only that question."
Expect your applicants to answer the question you ask them, and only the question you ask them. This is such a simple concept that you'll see violated in even the best interviews. Don't accept anything but a straight answer.
Anything else means one of two things: they're hiding something, or they're not confident enough to give the simple answer. Do you want either one? Use these five twists on classic interview questions to get straight answers the first time.
"What you know, and how you use it, is everything in your career."
It's not just the skills applicants have, but how they translate them into results, that helps your company succeed. An encyclopedic knowledge of social media doesn't matter; being able to continually create interesting content and drive visitors to your website is what really counts.
Always make sure you're having conversations about execution and results, not just methods and techniques. Test your applicants for fluency in their industry, not simply their exposure to it.
"It's all email and text – no one actually speaks to each other anymore!"
Quite simply, this statement is true, and it will drive you nuts if you staff a company with people who aren't good communicators. Put emphasis on finding candidates who are well spoken and present ideas effectively. It's a critical trait in every position you can fill, and it's one that's becoming more and more easily glossed over.
Composure, neatness, and conciseness count as much today as they did in 1965. They just aren't valued nearly as much.
Photo courtesy of BigStock.
Follow Eric on Twitter at http://twitter.com/ericgaydos.
Share and Enjoy