Article first published as An Enchanting Conversation With Guy Kawasaki on Technorati.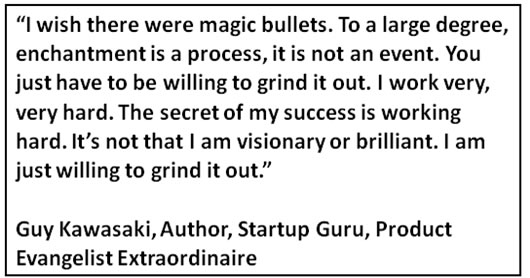 Guy's latest book, Enchantment, was released in March of 2011, to overwhelmingly upbeat reviews. Of the 225 customer reviews currently posted on Amazon, over 90% are highly positive.
I enjoyed the book as well, as evidenced by the review I wrote at the time of its release, which you can read HERE. I even plan to use it in my upcoming UC Santa Barbara Entrepreneurial Selling class.
As Guy notes in the accompanying video interview, his primary goal with Enchantment is to reach a broader audience, beyond the high-tech, startup world. According to Guy, "It has been very satisfying to hear from people who never heard of me before. It wasn't the Guy fan base. I'd like to expand beyond that. I want this book to be the equal to How To Win Friends And Influence People, by Dale Carnegie."
To this end, Guy has written a book that can be used by anyone seeking to further their cause; from startups, to non-profits, to public policy issues to getting a job.
You can watch the video interview with Guy below or on YouTube here: http://youtu.be/E-44eylGb2I
If you haven't already subscribed yet, subscribe now for
free weekly Infochachkie articles!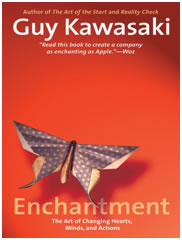 I began our discussion by asking Guy, "Why should entrepreneurs read your latest book, Enchantment?"
"The reason why an entrepreneur should be interested in this book is because entrepreneurs have to overcome resistance. In a perfect world, the coolest widget, the coolest service would automatically sell and people would love it…but this ain't a perfect world.
An entrepreneur, in particular, has to be likeable and trustworthy AND have a great product. An entrepreneur has to enchant people to use new products and services not simply bludgeon them, promote them or discount them. That doesn't work."
Guy, how would your 2004 book, Art Of The Start , differ, if you were writing it today?
"What is massively different from now and when I wrote the book is that social media didn't exist back then. If I were writing the book today, there would be a whole chapter or two…about how to use Facebook and Twitter. When Dale Carnegie wrote in 1933 that you should, 'use the telephone', he didn't anticipate Twitter. When I wrote Enchantment, I knew that the social media would be wrong – if I were to write either of the books today, I would have a whole section on Google+. I think Google+ is a great, great mechanism for enchanting people."
In Art Of The Start, you encourage your readers to be responsive and to strive to return emails within 24-hours. You even include your email address at the back of the book. From personal experience, I know that you practice what you preach, as you have consistently been responsive to my email inquiries. What tips can you share to help emerging entrepreneurs be as responsive?
"I wish there were magic bullets. To a large degree, enchantment is a process, it is not an event. You just have to be willing to grind it out. I work very, very hard. The secret of my success is working hard. It's not that I am visionary or brilliant. I am just willing to grind it out.
My recommendation is that it is cheaper than ever to start a company. People are free or cheap because of the recession. Marketing is free or cheap because of social media. You don't really buy servers anymore…the tools are all open source. Basically, everything is free. If there was ever a time to start a company, this is it."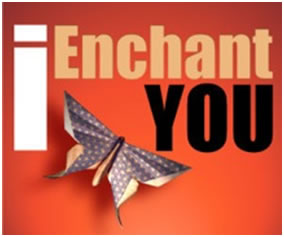 You do a great job of balancing self-promotion and humility. Do you have any suggestions for entrepreneurs who want to get noticed, but also want to avoid being labeled an "orifice"
"It's not clear to me I am qualified to talk about humility. It's sort of like asking Idi Amin about human rights!
People shouldn't take themselves so serious. If you get lucky, you should realize its luck. People need to realize the difference between correlation and causation. Let's say you got to work for Apple or Google…pretty soon you believe you cause Apple or Google's success. In fact, you just got on this rocket ship and it took off…and you managed not to fall off. People need to remember there is a very, very, very small difference between success and failure sometimes. As they say, 'There, but for the grace of God, go I.'"
If you could offer one word of advice to my UC Santa Barbara entrepreneurial students regarding how they can make themselves more Enchanting, what would it be?
"First…focus all you energies on creating a prototype. Not Microsoft Word, not Excel, not PowerPoint – prototype. Second…never ask someone to do something that you would not do."
What are your thoughts regarding Steve Jobs' transformation as a guy you used to work with in the 1980's to an iconic business leader?
"In my opinion, he is the world's greatest CEO, ever. He did more for Apple's shareholders, customers and employees than any other CEO has ever done for their shareholders, customers and employees. People should not try to emulate him, because they will be setting themselves up for failure. He is a great example of…building an enchanting company.
(Emerging entrepreneurs should strive for the) Product Quality of Apple, the trustworthiness of Zappos…and the likeability of Richard Branson."
For those looking for a quick a visual overview of Enchantment, the following three-minute video does an excellent job.
http://www.youtube.com/watch?v=iMCVkyRHbjk&feature=colike
If you watched the video, I think you will agree that Guy is an enchanting fellow. I trust you will also find his book to be equally enchanting.
Share and Enjoy