Note: This is an installment in the Iconic Advice series. Other installments include: Jeff Bezos, Steve Jobs, Mark Cuban, Richard Branson, Walt Disney, Mark Zuckerberg and Michael Dell.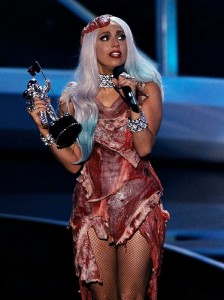 Make no mistake, successful entertainers are entrepreneurs. They must compete with tens of thousands of other performers who are all pursuing the same customer dollars. At the outset of their careers, they are forced to market themselves with little to no budget and differentiate their product so that they gain adequate attention without alienating too many potential customers.
It is too easy to say that an artist's success is simply a matter of luck. Although a handful of performers achieve their goals soon after launching their careers, for most, preparation meeting opportunity is what leads to their success. In fact, many of the same precepts which lead to a startup's success are also precursors to a performer's stardom.
You do not have to enjoy (or even respect) the music, costumes and outlandish behavior of pop-culture divas to learn from their entrepreneurial tenacity and drive.
If you haven't already subscribed yet,
subscribe now for free weekly Infochachkie articles!
 1. Fear Mediocrity
Lady Gaga - "All that ever holds somebody back, I think, is fear. For a minute I had fear… (then) I went into the (dressing) room and shot my fear in the face..." [Tweet this quote]
Entrepreneurs and entertainers alike must address their fears. If you are not anxious, then you are probably not pushing yourself or your startup hard enough. The inevitable pressures at a startup are not inherently negative. As noted in 6 Hands-on Tips To Conquer Your Entrepreneurial Fears, entrepreneurs should tackle intimidating obstacles because it, "expands your capacity to deal with challenge(s)." Properly channeled, self-imposed pressure is motivational and exhilarating. The key is to derive energy from your stress and apprehension rather than allowing it to drain your vitality.
2. Successful Women Have To Work Harder
Marilyn Monroe - "Women who seek to be equal with men lack ambition." [Tweet this quote]
Despite the prevalence of misleading headlines and politically divisive messaging, women are typically paid salaries which are commensurate with men.When experience, education and comparable jobs are taken into account, women make approximately 98% as much as their male counterparts. However, despite relative salary equality, there remain far fewer high-tech women entrepreneurs.
As a father of an entrepreneurial daughter and as a professional investor, I find this reality disturbing and disappointing. Women entrepreneurs need to take a cue from successful women entertainers, who also compete in what is largely a man's world.
Women entrepreneurs must resign themselves to the reality that raising money will be challenging, as most professional investors will be unable to pattern match them against other successful women entrepreneurs. You will also have fewer mentors with whom you can share your gender-specific experiences. Adopt Nicki Minaj's realistic attitude:"I know that no matter what, in the end it's not gonna be about my talent, you know. It's not gonna be about my connections. It's not gonna be about my looks. It's gonna be about who wants it the most. And I want it the most.
In the analog world, record companies controlled content distribution and thus played a significant role in a diva's success. In today's digital market, emerging entertainers cannot rely on business professionals to position, market and distribute their "products." This forces them to be proactively wily – just like a startup founder.
Katy Perry similarly understands the (non)sense of entitlement, stating: "… I had the rug pulled out from underneath my feet so many times. It was like, 'Listen up, bitch, you're not going to get served this on a silver platter, you've got to work for it!' I don't feel like I can act like an entitled bitch yet! I still have so much to prove."
3. Screw The Sticks And Stones
J. Lo - "It's a shame to call somebody a 'diva' simply because they work harder than everybody else." [Tweet this quote]
Despite the lingering double standard which labels determined men as "ambitious" and driven women as "bitchy," women should not shy away from aggressively pursuing their dreams.
Successful entrepreneurs and entertainers alike focus on the positive aspects of exogenous issues which they cannot change, rather than using them as an excuse for failure. This positive outlook is exemplified by Whitney Houston's take on the entertainment industry, "I like being a woman, even in a man's world. After all, men can't wear dresses, but we can wear the pants." 
4. The Company You Keep
Nicki Minaj - "The people that are inclined to hate are also inclined to be losers.  A loser could never congratulate a winner – it's not in them." [Tweet this quote]
It is difficult under ideal circumstances to generate enough self-assurance to take on an unfamiliar challenge. It is nearly impossible if you are surrounded by unsupportive, negative influences. Growing up a lower-middle class, mixed-race child Mariah Carey, knows how discouraging such antagonistic voices can be, telling her fans, "…don't ever give up! Never ever listen to anyone, when they try to discourage you, because they do that, believe me!"Entrepreneurs and aspiring entertainers are well served to surround themselves with positive winners and avoid bitter losers.
5. Dance Like No One Is Watching
Cher - "Until you're ready to look foolish, you'll never have the possibility of being great." [Tweet this quote]
You would not have heard of any of the divas included in this article if they had only sung into their hairbrushes while staring into their bathroom mirrors. Similarly, Wantrepreneurs who lack the courage to test their talents and ideas in the brutally unforgiving marketplace are destined to obscurity.
The following video epitomizes what it is like to be a startup founder. The video begins with the "founder" dancing by himself, oblivious to those around him. Undaunted, the founder slowly builds his team, joined first by a couple co-founders, then a by handful of entrepreneurial lieutenants and eventually by a hoard of people who knock each other to join his "venture."
At the outset, the woman taking the cellphone video can be heard in the background laughing at (not with) the founder. No doubt she assumed she was capturing a hilarious moment she could derisively post on Facebook.
Over 6 million views later, "Drunk Guy Dancing" has become a startup meme. Watch the entire 3-minute video and see if you can hear what the snarky videographer says at the end of the video. She asks the same question that many non-entrepreneurs pose after an startup founder accomplishes something that is seemingly impossible. She will, no doubt, never learn the answer to her pathetically obvious question.
As Drunk Guy Dancing can attest, emerging entrepreneurs and aspiring entertainers cannot afford to fear public ridicule. Rather, they should dread mediocrity. A strong negative response is better than a lukewarm collective shrug, as it is more actionable and informative. You must be self-assured and comfortable with who you are in order to be daring enough to cut through the market clutter. As Mariah Carey once said, "You really have to look inside yourself and find your own inner strength, and say,'I'm proud of what I am and who I am, and I'm just going to be myself.'"
Follow my startup-oriented Twitter feed here: @johngreathouse. I promise I will never tweet about Divas, politics or that killer burrito I just ate. 
Note: This is an installment in the Iconic Advice series. Other installments include: Jeff Bezos, Steve Jobs, Mark Cuban, Richard Branson, Walt Disney, Mark Zuckerberg and Michael Dell.
Image source: americanistadechiapas
Share and Enjoy