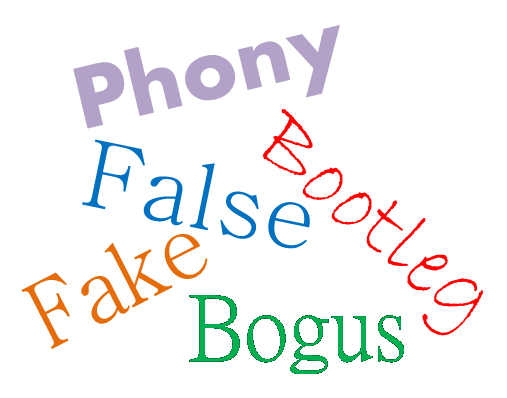 I was shocked by the headline: "71% Of President Barack Obama's Twitter Followers Are Fake." By this measure, of the President's nearly 19 million followers, 13.5 million are bogus. Irrespective of your political affiliation, one must admit that nearly three-fourths is an extremely high percentage of phony followers, suggesting that some shenanigans were employed to bolster the President's social status.

If you haven't already subscribed yet,
subscribe now for free weekly Infochachkie articles!
And The Most Authentic Twitter Personality Is...?
President Obama's troubling Twitter follower score caused me to wonder to what degree other leading Twitter personalities' followers were largely nonexistent. To this end, I used StatusPeople's online tool, which estimates the percentage of followers that are: Fake, Inactive or Good.
The results were surprising. Arguably the least-authentic personality on the list, Kim Kardashian, has the most legitimate followers of the Top 15 Tweeters, with 43% of her Twitter fans judged by StatusPeople to be real and active. Ms. Kardashian's genuine percentage is more than double that of the lowest ranking member on the list, Shakira, with a paltry bona fide estimate of 21%. Even more disheartening, Ms. Authentic herself, Oprah Winfrey, per StatusPeople's ranking, placed a mediocre tenth place, with only 26% of her followers extrapolated as real and active.
The following list is ranked from the highest to lowest percentage of real and active Twitter followers, not by each celebrity's total followers.
StatusPeople notes on their site that their results are inexact, as their algorithm samples a portion of a Tweeter's followers and then extrapolates relative percentages across the entire data sample. In addition, pioneer Tweeters with longstanding Twitter accounts are more apt to have a higher percentage of inactive users. However, given that all of these are mature Twitter accounts, it is safe to assume that the results are accurate/inaccurateon a relative basis.
Where Do Fake Twitter Followers Come From?
There are a number of services that sell fake Twitter followers for the socially deficient. Prices range from $10 for 1,000 auto-generated Twitter followers to $1,350 for 1,000,000 counterfeit followers. The other source of fake followers are spam bots which follow users with the hope they will receive a reciprocal follow, which allows them to send spammy direct messages to the Tweeter.
At first glance, the extremely large percentage of inauthentic followers is rather astonishing, given that the average Twitter account has a fake percentage in the single digits. Yet, I am not suggesting that any of the above celebrities purchased bot Twitterfollowers, nor do I have any direct evidence that this is the case. Although one can imagine that the temptation to cheat is strong among handlers responsible for managing a celebrity's social media network.
The fact that both YouTube and Twitter have out-sized fake followings of 30% and 37% respectively, suggests that bots are disproportionately attracted to long-standing Twitter accounts with large followings (like President Obama's). Thus, the more followers you have, the greater extent you are a spam magnet. For instance Bill Gates, who one would assume has no reason to puff up his Twitter status has, according to StatusPeople, 41% fake and 38% inactive users out of his total 8 million followers.
Political Ballot Stuffing
As the above chart details, the actual number of President Obama's fake followers is 30%. The 71% figure is derived by combining his fake and inactive followers. In contrast, 53% of presidential hopeful Mitt Romney's 910,000 followers are active and authentic, with 16% deemed fake and 31% inactive.
Sadly, members of the US Congress appear similarly compelled to win the Twitter followers war. According to a recent Newsmax story, "On average, 38 percent of accounts following House members on Twitter are either phony or inactive, (as are) 42 percent of accounts following senators." One wonders how many campaign dollars have been spent to purchase spurious Twitter followers.
Can You Delete Fakesters?
Twitter's asynchronous nature makes it difficult to remove fake followers. Start the process by manually reviewing those following you. After identifying Twitter accounts with generic "personal" descriptions that are following a huge number of people and have issued zero tweets, use Michael Gangi's suggestions to eliminate these bot accounts, as originally published on The Gangi Blog:
"Unfortunately, the only way to get rid of all these (fake) followers is to individually block them or report them for spam. If you have a whole boatload then it's going to take some time for sure. After you have reported or blocked all the fake followers click on your account settings and turn Tweet Privacy ("Protect My Tweets") on. You will be asked to enter your password to make the changes to your account. This is COOL TO DO. I promise. Then exit out of settings, go back into settings and turn off your Tweet Privacy. When you visit your home page again you will notice that the number of followers have decreased and the unwanted followers are no longer there. Now you can start legitimately building a loyal and tangible base of Twitter-ees to follow you!"
Getting Real
The averages for the Top 15 Twitter personalities are 30.4% fake, 40.9% inactive and 28.7% real and active. Thus, the next time you see a celebrity with an outrageous number of followers, you can shore up your ego by reminding yourself that nearly three-fourths of these "followers" essentially do not exist.
What are my Twitter scores you ask? Fair enough. I did not include myself on the list of influential members of the startup community because I am not quite that shameless and because I have far fewer Twitter followers than the folks on the list, which I cut off at 10,000 followers. However, in the spirit of full disclosure my scores are: 3% Fake, 14% Inactive and 83% Good.
If you are not a Twitter spam bot, you can follow my startup-oriented Twitter feed here: @johngreathouse. I promise I will never tweet random Instagram photos or tell you about that killer burrito I just ate. 
Share and Enjoy