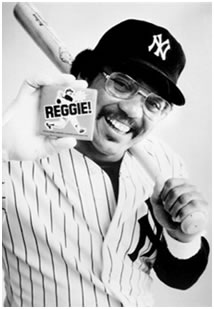 Reginald Martinez Jackson was a perennial major league baseball all-star throughout most of his 21-year career. Reggie earned the nickname "Mr. October" because of his consistent ability to hit home runs during clutch situations in playoff and World Series games, which contributed to his teams winning five Championships.
He was also often referred to as a "hotdog" for his self-promotional antics and lackadaisical on-field play. When teammate Darold Knowles was asked about Reggie's hotdog status, he replied, "There isn't enough mustard in the world to cover Reggie Jackson."
In addition to his reputation as a showoff, Reggie was renowned for deriding his teammates in the press and initiating clubhouse fights. While it is not uncommon for losing teams to squabble, Mr. Jackson fought his teammates in good times as well as bad.
Rick Cerone, the New York Yankees' catcher during the early 1980s recalled a fight between Mr. Jackson and teammate Graig Nettles, which occurred at a celebratory dinner following the Yankees' American League pennant victory.   
"We are going to the World Series and we're celebrating. But Reggie and Nettles are fighting. Nettles punches Reggie in the face and Steinbrenner is rolling in the middle of the floor trying to break up the fight. And I'm saying to myself, 'Didn't we just win the ACLS? We're going to the World Series right?'"
If you haven't already subscribed yet, subscribe now for
free weekly Infochachkie articles!
Matching Maintenance With Productivity
Although Mr. Jackson was assuredly a superstar baseball player, he failed to realize that even though he was indispensable, he was not irreplaceable. As such, he played for five different teams during his career.
Cal Ripkin, Jr. was also a baseball superstar. However, unlike Mr. Jackson, Cal was a selfless, self-effacing player who routinely played with injuries and placed his team's victories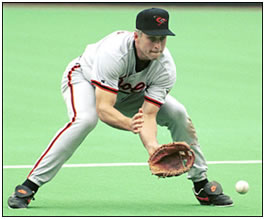 ahead of his personal statistics. During a 17-year period, he played in 2,362 consecutive games, earning him the nickname "Iron Man". In doing so, Mr. Ripkin broke the prior consecutive game record, which had stood for 56 years, by 500 games.
No one ever called him a hotdog. Rather than bounce from team-to-team, as is common in major league sports, Cal repeatedly turned down more money and greater media exposure to play his entire 21-year career with the same team, the Baltimore Orioles.
Although Mr. Jackson and Mr. Ripkin represent extreme examples of high and low maintenance sports superstars, the analogy is valid in the business world. Numerous executives have the ability to deliver value to your adVenture. Some will do so in a quiet, unselfish fashion based on Humble Pride, while others will act as A- Players, delivering results while generating negative, unintended consequences.
Consider the following chart, which compares an employee's productivity with their maintenance. In this context, maintenance is defined as the amount of management time and energy required to sustain the employee's productivity.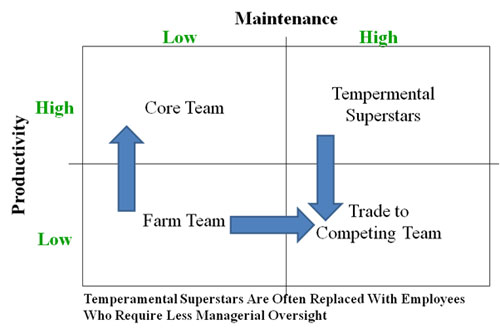 Core Team – These trusted employees act with great autonomy and consistently deliver results with very little coddling
Temperamental Superstars – These individuals perform at a high level, so long as they receive the high level of care and feeding required to assuage their oversized egos.
Farm Team – These individuals are entrepreneurial lieutenants who have the raw talent to become part of the Core Team, but lack the necessary maturity and experience. Hands-on management of these teammates is a worthwhile investment, as they have the ability to eventually enhance their productivity to a high-performing level. However, if their productivity does not increase over time, consider counseling them out of your startup.
Trade To A Competing Team – These individuals represent the worst type of startup employee. Not only do they consume a significant amount of management resources, their output is lackluster, even when they are performing at maximum capacity. Cut your losses and find an alternative home for such employees, ideally at one of your competitors.
The Straw That Stirs Up Trouble
After initially denying an infamous quote in which he was alleged to have said that he was the "straw that stirs the (Yankees') drink", Reggie Jackson subsequently told a New York Times reporter, "I'm still the straw that stirs the drink… not nobody (sic) else on this club." Reggie just did not know when to stop swinging his lips and simply swing his bat. Learn from Reggie's transgressions: you can be simultaneously indispensable and imminently replaceable.
As noted in A+ Players, you should consider an individual's impact on your adVenture's Core Values as much as their ability to contribute to achieving your company's overall strategic goals. Although Temperamental Superstars will help your company achieve short-term victories, most startups do not have the time or energy necessary to keep them happy over the long run. Such mercurial superstars generally do not maintain their high level of productivity while they are sulking over their perceived lack of attention. As such, you are likely better off allowing your competition to hire the Reggie Jacksons of the startup world and focus your efforts on recruiting high performing, low maintenance teammates, like Cal Ripkin.
______________________
John Greathouse has held a number of senior executive positions with successful startups during the past fifteen years, spearheading transactions which generated more than $350 million of shareholder value, including an IPO and a multi-hundred-million-dollar acquisition.
John is a CPA and holds an M.B.A. from the Wharton School. He is a member of the University of California at Santa Barbara's Faculty where he teaches several entrepreneurial courses.
______________________
<
Copyright © 2007-10 by J. Meredith Publishing. All rights reserved.
Share and Enjoy